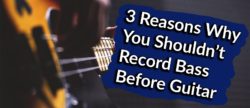 Many people record a band in this order:
1. Drums -> 2. Bass -> 3. Guitars -> 4. Everything else -> 5. Vocals
I used to do the exact same thing for years. Because it makes sense, right? First you record the groove, which is usually drums and bass, then the rhythm guitars on top of it, then other rhythm elements and then all the lead parts and vocals can play and sing to that rhythm.
While it's a good idea to think of the arrangement like this, it's NOT a good idea to do it strictly in this order every time you record. In fact, I would highly recommend to stop recording bass before rhythm guitar(s).
Read More