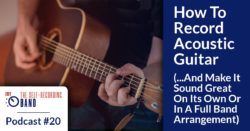 An acoustic guitar is a complex thing to record and there's so many things that can go wrong.
The instrument, the strings, the performance, the room, the microphones and placement, noise issues and finally the question:
How do I get this to work in the context of my song?
Most of the time the acoustic guitar serves a specific purpose. Either on its own, or in a dense, full rock band arrangement.
In this episode we'll walk you through the process of recording an acoustic guitar and cover all the details, as well as different methods and approaches, so that you can start your next session with confidence.
Read More