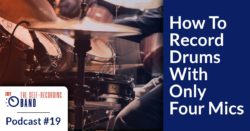 You don't need a complex, expensive setup to record modern, punchy drums.
In a typical home recording situation, what we can do is often limited by the amount of inputs and mics that we have. And when we think of modern drum production we think of complex multichannel setups with 20 or more microphones carefully positioned around the drum kit.

Sure that's often the way to go, if we have the gear, room, expertise, etc. But what if we only have four inputs available and still want all the punch and clarity? Don't let that stop you! There are ways to make situations like this work and we're gonna show you exactly how. Join us in our discussion about minimalistic drum recording techniques that can make your drums hit hard, regardless of the limitations.
Read More