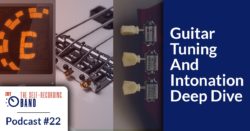 One of the most common issues we run into, when we get tracks from self-recording bands, are tuning issues. And out of tune guitar and bass tracks are one of those things that immediately scream "AMATEUR PRODUCTION!".
The sad truth is:
When the tuning is off, even if it's subtle, the song won't connect as well and the mix won't sound as good as it could have if the intonation was spot on!

Especially in modern productions where there are multiple layers of guitars, bass, keys, vocals, etc., even the slightest tuning issues can cause the whole thing to sound weird and unprofessional. And it will definitely distract the listeners and take them out of the song.

Listen as we walk you through three main concepts and lots of simple, specific tricks and tactics that you can use to identify problems, get the guitar tuning spot on and nail the intonation every single time you record.
The action steps we're giving you in this episode to help you get the tuning right:
1. Your Guitar:
Use the proper string gauge (string tension calculator)
Set up your guitar properly and regularly (or take it to a professional to get it done)
Use the same tuner for every person in the band
Use a strobe tuner
2. Performance:
Tune attack or tune sustain, depending on the part
Tune like you play (hard/soft, sitting/standing)
Tune individual chords, if necessary
Mute unused strings and use fret wraps, if necessary
Left hand tuning ("death grip", bending, etc)
Right hand tuning (position of your hand, intensity, etc.)
3. Production Strategy:
Don't tune between doubles
Use the same guitarist for main take and double
Use the same guitar and rig for your double if you want a solid, wide, "wall of sound" type of thing
Use a tuning reference track (MIDI bass is great for that)
Consider getting an Evertune bridge if you're in the market for a new guitar


Things we use and recommend for getting the tuning right (affiliate links):
Read More